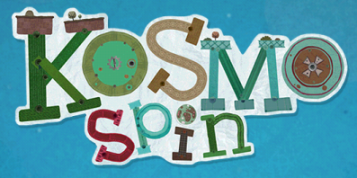 The Kosmo Spin page is currently under construction.
Please keep on checking this space for future updates.
Thanks for your patience!
Kosmo Spin is Simogo's debut game, released on December 2, 2010 for iPhone, iPod Touch and iPad.
Plot
Planets are faced under attack by a breakfast-loving alien and it is up to Nod, the game's protagonist, to defend the inhabitants before all their breakfast is taken.
Gameplay
Kosmo Spin is an endless game that offers a unique control mechanism based loosely on a Simogo match-3 prototype that never eventuated.[1] Players rotate Nod by rotating their finger around the planet in a circular motion to make Nod move.
In the main game the aim is to obtain the highest score by collecting as many breakfast items as possible and deflecting as many balls as possible without getting abducted by the alien. 
The alien will regularly throw balls of different shapes, sizes and types onto the planet, which can be deflected with Nod's head, gaining one point. Continuous deflections will increase the point received from each deflection, up to a maximum of 10. An extra point is also awarded when the ball hits the alien. If the ball is not deflected, a tremor will occur making Nod immobile for a number of seconds.
There is also a breakfast meter on the top of the screen. When players manage to fill up the entire meter, a bonus round will occur where the alien will disappear and players are given a short amount of time to collect as many breakfast items as possible before the timer ends. The meter will reset if the alien manages to abduct a breakfast item.
Occassionally the alien will also fire a beam of light onto the planet's surface while often moving. If Nod is under it, it will end the game.
Related Media
References
↑ See Simogo's Lost and Found video from 0.43 seconds